I'm Nat, aka the Go to Girl! Visibility & Confidence Coach and Super Connector. Together we can Amplify your Impact and change the world for good.

Hi lovely! I see you there, wanting to have more positive Impact on the world but not sure HOW, maybe it's with your message, business or speaking, or maybe it's through better connecting with others or maybe it's amplifying your wellness.
One of my top Superpowers is connecting people and empowering them to Amplify their Impact and visibility so they can change the world for good. To give you a little background on me, I'm a Canadian-Kiwi, an International speaker, author, MC and event host, entrepreneur and mother of three. I specialise in Helping the people who help the people!
Whether it's media training, speaking opportunities, done-for-you networking or helping you to get out of the 'should zone' and 'frustration zone' and instead live your life in the 'Impact' zone where you can truly amplify your positive impact, business and wellness. I'm here to help.
I work with individuals and organisations who want to change the world for good. I'm on a mission to massively raise the state of resilience, health and happiness in New Zealand and on a Global scale.
I do this via my Up Your Brave & Superpowers talks and workshops, Up Your Brave video series, Amplify Mastermind group coaching program, Mini courses and limited 1-1 Coaching and various other impact driven collaborations and partnerships.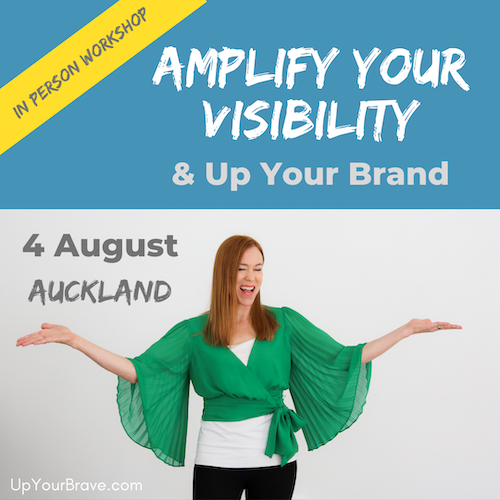 IN PERSON WORKSHOP
4th August, Auckland
Amplify Your Visibility & Up Your Brand
Learn how to raise your profile and impact so that you can reach more of your ideal clients and stay in your superpower doing what you love!
YOUR FREE GIFT
The 7Fs for Powerful Presenting
Learn the crucial 7Fs for powerful presenting online, on stage or in the media.
Thriving Teens & Tweens Event s
In person Auckland *more locations coming soon
Equipping & Empowering parents & caregivers of teens & tweens.
---
Here's a quick about me video
As Seen On
---
Amplify your Business with 1-1 or Group Coaching
---
---
Imagine this... a laser focussed message that passes the 'eyebrow test'. More confidence and impact presenting online, in person or in the media. More impact and more of your absolutely ideal clients reaching out to you because they know YOU are the one who can help.
If you're ready to Up Your Brave, let's help you to hone your message & offerings and truly Amplify your Impact and change the world for Good 💥
In the Amplify Mastermind Group Coaching Program, you'll get: On tap videos, inspiration and accountability to help you get your message out on stage, screen and media.
You'll also gain access to the private Facebook community PLUS 2 x per month live-online zoom sessions where you'll get group coaching, masterminding and motivation to help you raise your business resilience and visibility in an ever-changing world.
Learn More about Amplify Mastermind
---
---
Want help with 1-1 Coaching? I specialise in Visibility & Connections to Amplify your Impact and grow your Business.

---
1-1 Coaching Info
---
---
---